Who are amorebostonterriers.com?
The internet is a great place to start your search for a puppy, but it's important to be aware of the potential Boston Terrier puppy scams like Amorebostonterriers.com. These scams can be frustrating and disappointing as people lose their hard earned money without getting the pet they wanted.
To protect yourself from these scams, it's important to do your research before making any payments. Check if the breeder is listed with a reputable Boston Terrier kennel club, visit the breeder's premises in person and have a video chat with the breeder and the puppy. Do not depend on online reviews as these can be easily faked.
By educating yourself on the warning signs and avoiding websites like Amorebostonterriers.com, you can increase your chances of finding a happy and healthy pet from a reputable Boston Terrier breeder while avoiding the disappointment and frustration of falling victim to a scam.
Can I trust amorebostonterriers.com reviews?
When it comes to online reviews, it's important to be skeptical, especially when it comes to websites like Amore Boston Terriers – Registered Boston Terrier Puppies which are often clones of previous scam sites. Scammers will create fake reviews on their own website or on other review sites, such as Facebook or TrustPilot. By researching the author and reading their other reviews, you can gain insight into their writing style and the types of products or services they typically review. If the author has a history of reviewing scammy websites, treat it as a red flag and an indication that the review should be taken with a grain of salt. Additionally, you can research the website or product being reviewed to see if it has a history of being associated with scams or similar fraudulent websites.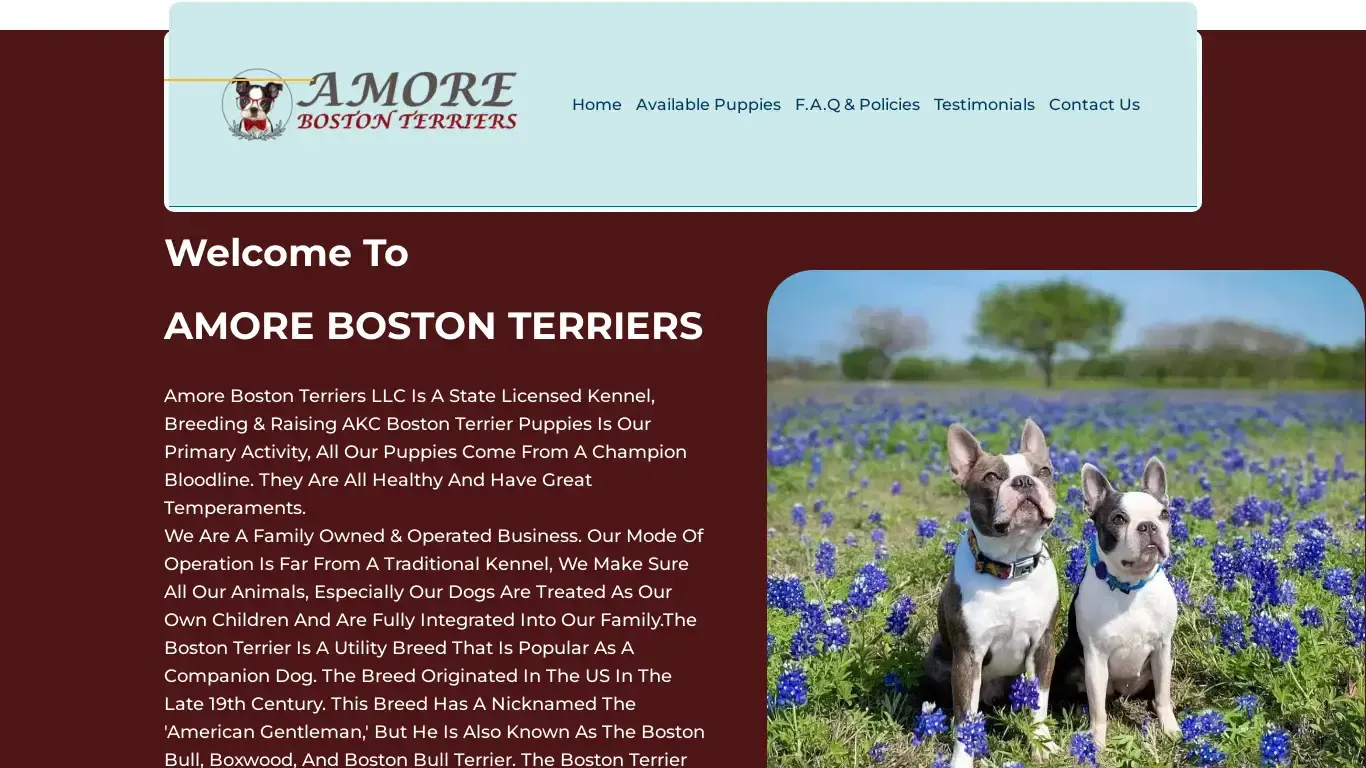 Is Amorebostonterriers.com legit?
How long has Amorebostonterriers.com existed?
When considering using a website or doing business with a company, it's important to be aware of potential red flags that may indicate that the website or company is not legitimate. One such red flag on Amorebostonterriers.com is the age of the website's domain registration. A quick check of the WHOIS record shows that the domain was only registered 2 weeks ago, on the 18 of October 2023. This is a relatively short period of time for a company to have been in operation, and it may indicate that the website or company is not as established as it claims to be.
Another red flag to consider is Amorebostonterriers.coms expiration date. If a website's domain is set to expire in the near future, this may indicate that the website or company is not planning to continue operating for very long. In the case of Amorebostonterriers.com, the domain is set to expire in October 2024 in in 11 months. This short expiration date is another indication that the website or company is not trustworthy.
Finally, it's important to verify the information provided on Amorebostonterriers.com. If the website claims that the company has been established for a long period of time, but the domain registration is relatively new, this may be a sign that the company is not being truthful. Additionally, check if the website's claims match with the company's history, it's important to ensure that the website is providing accurate information.
It's always a good idea to be cautious when dealing with new websites or companies, and by being aware of these red flags, you can help protect yourself from potential scams.
Where are Amorebostonterriers.com located?
It is very difficult to accurately find the location for Amorebostonterriers.com. Scammers will often ask you for your location and then claim to be at the opposite side of the country. This allows them to scam you out of even more money by charging you for pet transportation services.
One thing they that is certain is that the information they give you will be false.
Their domain was registered with the following information:
Email address: Not Known
Name Used: Not Known
Organisation: Not Known
Physical address: Not Known
City: Not Known
Zip: Not Known
Country: Not Known
Most times the address on the WHOIS is not the location of the scammer. Very often they will use a privacy service to hide their details.
Site Text
welcome to amore boston terriers amore boston terriers llc is a state licensed kennel, breeding & raising akc boston terrier puppies is our primary activity, all our puppies come from a champion bloodline. they are all healthy and have great temperaments. we are a family owned & operated business. our mode of operation is far from a traditional kennel, we make sure all our animals, especially our dogs are treated as our own children and are fully integrated into our family.the boston terrier is a utility breed that is popular as a companion dog. the breed originated in the us in the late 19th century. this breed has a nicknamed the 'american gentleman,' but he is also known as the boston bull, boxwood, and boston bull terrier. the boston terrier is a cross between an english bulldog and the now-extinct english terrier. this bull breed is a very intelligent and incredibly adorable canine companion. scroll down to learn more. history of boston terriers there are differing claims on how the boston terrier dog breed came to be. one report suggests that the breed existed in the late 1800s, with his origin traced back to boston, massachusetts. some thought that this breed hailed specifically from new england city located in boston. this small boston terrier dog was created when certain wealthy families crossed the english bulldog with the now-extinct english white terrier to develop new pit fighting and bullfighting dogs. other stories credit a bostonian, robert c. hooper, who brought an english bulldog-english terrier dog named judge from england in 1865. another account suggests that judge was purchased by hooper from another bostonian, william o'brian, in 1870. judge weighed over 12 kilos and was interbred with the french bulldog, paving the way for the boston terrier that we know today. he was considered the father of this small bull breed. the boston bull terrier gradually transitioned from a bulky bullfighter to a small and affectionate family companion after years of selective breeding. the first boston terrier was shown and exhibited in 1888 in a class under the 'round-headed bull terriers of any colour.' thus, at one point, the breed was known as the boston round head. the breed was also called bullet head and bull terrier. this bull breed used to be called the american bull terrier as well. however, strong objections from bulldog and bull terrier owners put a stop to this. he was named boston terrier when a mr. j watson or a mr. h lacey came up with the name for the breed in 1893. this was also the year the american kennel club officially recognised the breed. it led to the founding of a breed club called the boston terrier club of america. the boston terrier club membership was only exclusive to bostonians at first, but the popularity of the boston bull became widespread in the united states around the 1950s. visit our available puppies about boston terriers the boston terrier is a small but solidly built, muscular, and well-balanced dog. he

Amorebostonterriers.com content
What to do next?
Our goal is to gather as much information as possible about Amorebostonterriers.com and the individuals behind it. By providing us with details about the criminals, we can create a comprehensive understanding of the scammer's network and take steps to shut it down.
We welcome any information about the scammers, even if you haven't lost any money. Disrupting their payment methods can have a greater impact on their operations than just shutting down a website, which can easily be recreated.
Protip: If the scammers provide you with bank account information, request that they use Bitcoin instead. If they offer a Zelle account, ask for a bank account to transfer the funds to. You can report multiple accounts to us for further investigation.
You should never give your banking information to these scammers
If you live in the US it is important to report this scam to the BBB. Click here to see why. As well as the Better Business Bureau you should report this crime to the Federal Trade Commission. See Here