Who are precinctspups.co.za?
Precinctspups.co.za use the phone numbers +27732240364.
Australian shepherd puppy scams are a common online scam that can be incredibly frustrating and disappointing for those looking to add a new furry friend to their family. Precinctspups.co.za disguise themselves as legitimate Australian Shepherd breeders or pet sellers, and advertise Australian Shepherds online, often with pictures and videos. The scammer will then ask the buyer to pay for delivery and once the payment is done, the puppy never arrives and the buyer is left out of pocket.
It's understandable that you want to bring home a new Australian Shepherd, but it's important to be cautious and protect yourself from these scammers.
Can I trust precinctspups.co.za reviews?
Precinctspups.co.za may have multiple good reviews online but can you trust them? The simple answer is "No".
When a criminal creates a scam website like Precinctspups.co.za they will also create fake reviews on their actual website. It is not uncommon for them to have a page devoted to these fake reviews. If you search for the text of the review you will often find identical reviews on other scam websites.
Scammers will also create fake reviews on Facebook, TrustPilot as well as any other review websites that allow unvalidated reviews.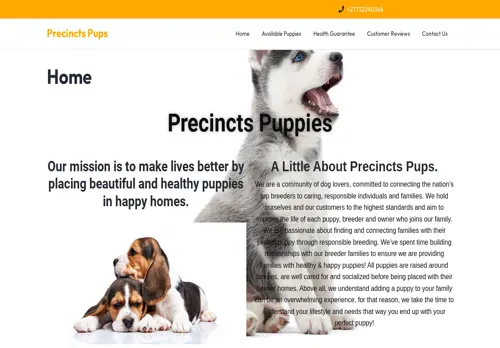 Is Precinctspups.co.za legit?
How long has Precinctspups.co.za existed?
When thinking about buying from a website, it's good to be aware of signs that the company may not be trustworthy.
One sign is the age of the company's website. For example, if a website's domain was only registered recently, like in our example Precinctspups.co.za, which was registered only 1 month ago on 08 of January 2023 and the expiration date is in 10 months which is January 2024, it is a sign that the website or company is not reliable.
It's also important to check the information on the website to make sure it matches the information on the WHOIS.
Where are Precinctspups.co.za located?
It is very difficult to accurately find the location for Precinctspups.co.za. Scammers will often ask you for your location and then claim to be at the opposite side of the country. This allows them to scam you out of even more money by charging you for pet transportation services.
One thing they that is certain is that the information they give you will be false.
Their domain was registered with the following information:
Email address: Not Known
Name Used: Not Known
Organisation: Not Known
Physical address: Not Known
City: Not Known
Zip: Not Known
Country: Not Known
Most times the address on the WHOIS is not the location of the scammer. Very often they will use a privacy service to hide their details.
Site Text
+27732240364 precincts pups home precincts puppies our mission is to make lives better by placing beautiful and healthy puppies in happy homes. a little about precincts pups. we are a community of dog lovers, committed to connecting the nation's top breeders to caring, responsible individuals and families. we hold ourselves and our customers to the highest standards and aim to improve the life of each puppy, breeder and owner who joins our family. we are passionate about finding and connecting families with their perfect puppy through responsible breeding. we've spent time building relationships with our breeder families to ensure we are providing families with healthy & happy puppies! all puppies are raised around families, are well cared for and socialized before being placed with their furever homes. above all, we understand adding a puppy to your family can be an overwhelming experience, for that reason, we take the time to understand your lifestyle and needs that way you end up with your perfect puppy! if you are looking for a new family member, we would love to hear from you! we are sure that you not only want a pet, you are here because you wish to have a new family member. therefore we have become specialists in giving satisfaction to people like you. you can be confident about having the new home member in excellent health conditions. our available puppies australian shepherd puppies beagle puppies bernese mountain dog boston terrier puppies cavalier king charles puppies cavapoo puppies pembroke corgi welsh puppies dachshund puppies french bulldog puppies german shepherd puppies golden retriever puppies labrador retriever puppies maltese puppies maltipoo puppies pug puppies shih tzu puppies yorkshire terrier puppies pomeranian puppies nutrition at precincts pups, we believe there is no such thing as too chubby of a puppy! we feed our pups life's abundance three times a day. most puppies will always be sensible eaters, stopping when they've had the right amount. we uses life's abundance because it's made for all life stages. this recipe contains only the finest ingredients: • a proprietary blend of vitamins & minerals • high-quality protein from chicken meal for strong muscles • an antioxidant system including vitamins c & e • prebiotic fiber & guaranteed probiotics • a selection of nutritious vegetables • omega-3 fatty acids for healthy skin & a shiny coat • calcium & phosphorus for healthy teeth and strong bones • dietary fiber to help maintain a healthy digestive tract chewing pups love and need to chew. our best and simplest recommendation is having a lot of chew toys available that your pup is allowed to chew on. copyright © 2023. precincts pups. all right reserved

Precinctspups.co.za content
What to do next?
Our goal is to gather as much information as possible about Adorablebordercollies.store and the individuals behind it. By providing us with details about the criminals, we can create a comprehensive understanding of the scammer's network and take steps to shut it down.
We welcome any information about the scammers, even if you haven't lost any money. Disrupting their payment methods can have a greater impact on their operations than just shutting down a website, which can easily be recreated.
Protip:  If the scammers provide you with bank account information, request that they use Bitcoin instead. If they offer a Zelle account, ask for a bank account to transfer the funds to. You can report multiple accounts to us for further investigation.
You should never give your banking information to these scammers
If you live in the US it is important to report this scam to the BBB. Click here to see why. As well as the Better Business Bureau you should report this crime to the Federal Trade Commission. See Here