Who are internationalparcelmasters.com?
Internationalparcelmasters.com use the email [email protected] and [email protected] and the phone numbers +62-864-349-1 and (62) 1900-444-90.
Are you expecting a delivery from Internationalparcelmasters.com? If you believe you are then please read the following.
You are currently being scammed in an "Advance fee fraud" scam. Internationalparcelmasters.com is a fake delivery company. Most people reading this will already know that they are involved in a deal that is "to good to be true" or that they "knew it might be a scam but they were not quiet sure"
Internationalparcelmasters.com is a scam not a delivery company
Any money you have paid will not be returned to you
You will not receive any delivery from Internationalparcelmasters.com
Who created the website Internationalparcelmasters.com?
Scammers have a lot of techniques to steal your money. They will sell or give items online. As they are not living locally to you, they will have to ship the item to you.
Internationalparcelmasters.com was created by criminals in order to make you believe that the item is being shipped to you. The scammer will create an account for you so that you can log in with a fake courier tracking number to see the progress of the item being shipped.
The reality is that there is no shipment. The scammer who created Internationalparcelmasters.com is simply changing the status of a fictional shipment to make you believe you have to pay more and more fees.
If you live in the US it is important to report this scam to the BBB. Click here to see why. As well as the Better Business Bureau you should report this crime to the Federal Trade Commission. See Here
Can I trust internationalparcelmasters.com reviews?
It is important to be cautious when reading online reviews, especially when it comes to scam websites being run by criminals like International Parcel Masters. Scammers will create fake reviews on Internationalparcelmasters.com as well as on other review sites, such as Facebook or TrustPilot. Any positive reviews you read about Internationalparcelmasters.com should be treated with scepticism. Scammers will create their own fake reviews using multiple accounts. Research the website or company yourself to check for red flags such as contact information or lack of transparency.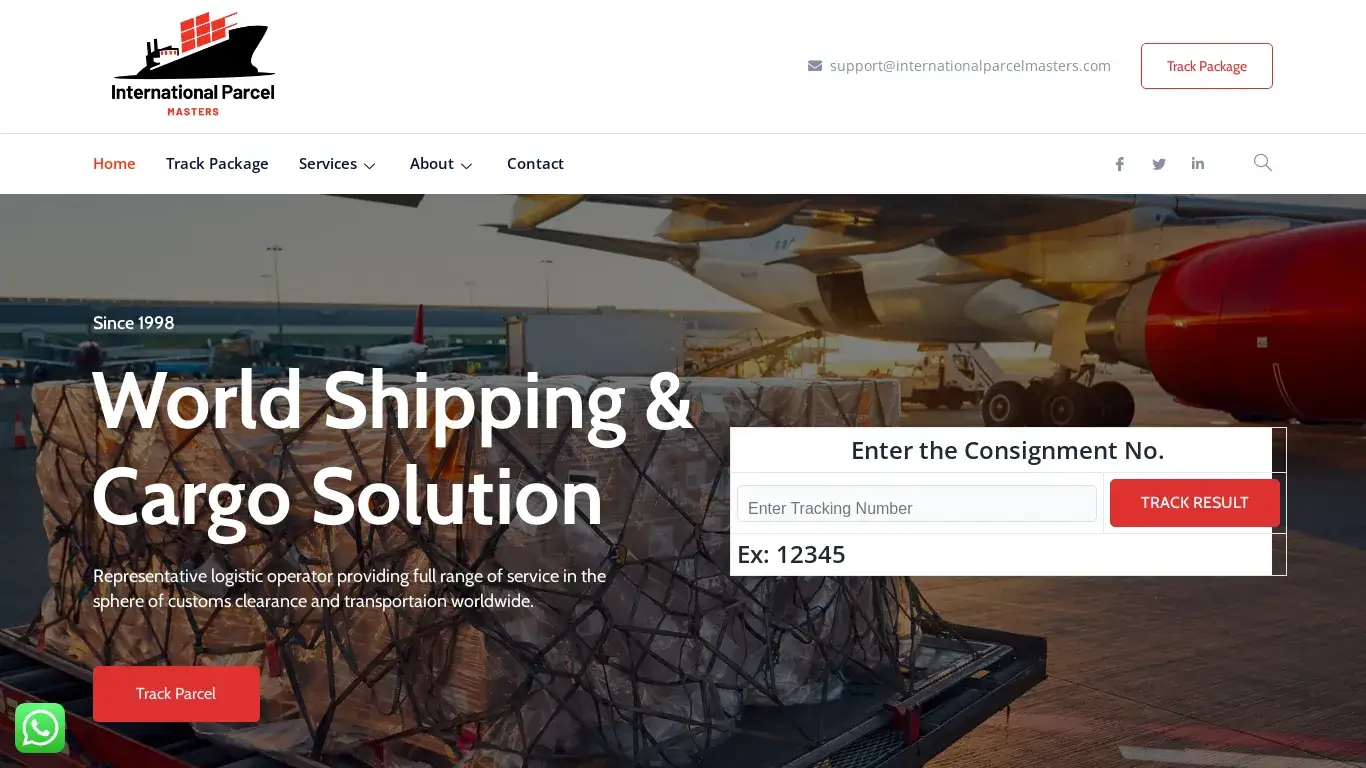 Is Internationalparcelmasters.com legit?
How long has Internationalparcelmasters.com existed?
Internationalparcelmasters.com may look like a legitimate breeder however there are many red flags to watch out for.
If you check the WHOIS for Internationalparcelmasters.com you will see that it was registered on 28 of October 2023 which is only 1 week ago.
The domain is only registered for 2 year and expires in October 2024 which is in 1 year.
Recheck the website. Does this match with what they say about their company? Do they claim to be be established for much longer than the website has been running?
Where are Internationalparcelmasters.com located?
It is very difficult to accurately find the location for Internationalparcelmasters.com. Scammers will often ask you for your location and then claim to be at the opposite side of the country. This allows them to scam you out of even more money by charging you for pet transportation services.
One thing they that is certain is that the information they give you will be false.
Their domain was registered with the following information:
Email address: Not Known
Name Used: Not Known
Organisation: Not Known
Physical address: Not Known
City: Not Known
Zip: Not Known
Country: Not Known
Most times the address on the WHOIS is not the location of the scammer. Very often they will use a privacy service to hide their details.
Site Text
skip to content contact home contact need help ? our office location duis et nibh blat, eifend liberost amet, suscipit enim. sed rutrum posuerercis pohasellus curs our tinnt nulla, ut ttis augue finibus. estibulum vitae fringilla in, rhoncus luctus ante. integer porttitor fringillaseru vestibulum. phasellus curs our tinnt nulla, ut ttis augue finibus ac. bali batanghari xix 339, bali, indonesia +62-864-349-1 [email protected] mon – fri: 9:00 – 19:00 surabaya brawijawa vix 539, surabaya, indonesia +62-864-349-1 [email protected] mon – fri: 9:00 – 19:00 contact form call us or fill the form + (62) 1900-444-90 don't hesitate to contact us! office location batanghari xix 339, bali, indonesia working time mon – sat: 9:00 – 22:00 leave your message here subscribe to jetrans newslatter focused on the shipping and logistic industry transportation. subscribe now! from ocean to air, land to home, we offer a comprehensive suite of services that go beyond just delivery – we're in the business of making your shipping experience seamless, reliable, and worry-free. join us on a journey where convenience, efficiency, and exceptional service converge, ensuring that your cargo reaches its destination, your doorstep, and your heart with a smile. company about us services blog contact support faq's privacy policy term & conditions track shipment services ocean freight air freight land transport packaging quick contact jacksonville, florida, usa +62-864-349-1 [email protected] © 2023 international parcel masters

Internationalparcelmasters.com content
What to do next?
Our goal is to gather as much information as possible about Internationalparcelmasters.com and the individuals behind it. By providing us with details about the criminals, we can create a comprehensive understanding of the scammer's network and take steps to shut it down.
We welcome any information about the scammers, even if you haven't lost any money. Disrupting their payment methods can have a greater impact on their operations than just shutting down a website, which can easily be recreated.
Protip: If the scammers provide you with bank account information, request that they use Bitcoin instead. If they offer a Zelle account, ask for a bank account to transfer the funds to. You can report multiple accounts to us for further investigation.
You should never give your banking information to these scammers
If you live in the US it is important to report this scam to the BBB. Click here to see why. As well as the Better Business Bureau you should report this crime to the Federal Trade Commission. See Here